Saving Your Silver When Buying Jewellery
Sunday, May 21, 2017
You don't have to spend a fortune on jewellery. Neither do you have to settle for tacky plastic. There's lot of sophisticated bling out there that doesn't require you to fork out a loan. By knowing a few tricks, you can find these deals. Here are a few cost-cutting methods that high street jewellers won't tell you.
It should be no surprise that the big brands are pricier. Whilst the likes of Cartier and Harry Winston are likely to provide more unique designs of A-class luxury, most other big jewellery brands such as Louis Vuitton and Paloma Picasso rely on their name to sell at a high end price. An independent jeweller or lesser known brand may be able to offer a similar design to these brands made of similar materials for a fraction of the price. Consider whether you or your loved one really needs a Tiffany necklace, or whether a non-branded necklace for a tenth of the price on
Etsy
is likely to be just as effective.
Brands of luxury
Diamonds aren't always a girl's best friends. Gemstones can often offer a bit of colour and personalisation. You may be able to match to their favourite colour or their
birthstone
. Coloured gemstones cost much less and can be incorporated into all kinds of jewellery.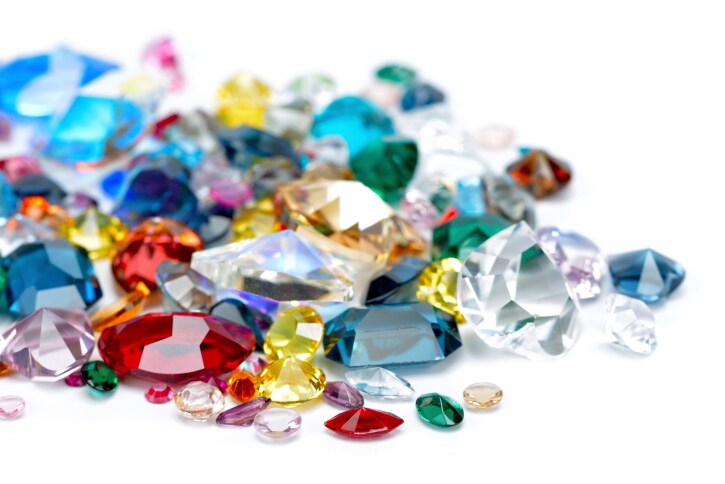 Coloured gemstones
For a budget wedding ring, ceramic can be just as luxurious as any precious metal. It's equally shiny and can be delicately patterned.
Authentic ceramic rings have many benefits
including durability and heat resistance. They're also hypoallergenic – if silver and gold are a no-no, ceramic can often be the next best alternative.
Ceramic Rings
Antique stores and vintage stores or some of the best places to find deals on precious jewellery. Note everyone will like these older designs, but for some it can add extra character and a more classic sense of luxury. You may also be able to find newer second-hand jewellery from pawnbrokers or from online sites such as eBay. Always check the condition thoroughly before purchasing. If you're buying online, make sure you have pictures and don't be afraid to quiz the seller.
Second Hand Jewellery
(credit to Google)
The art of haggling can come in use when buying jewellery. Many of us in the western world aren't used to it and some big brand names won't allow you to haggle. However, if you're buying independently, there's nothing to stop you trying to knock off a few quid. If you're buying jewellery for someone, I wouldn't advise haggling with them there as it could cheapen the impact of your gift. Expert hagglers will also do their research first – with most of us able to access the internet from our phones nowadays, a quick Google search of similar jewellery items can help when knowing how far to barter.