Tips to decorating a small apartment
Friday, February 10, 2017
Apartment
When living in the city, the most practical living arrangement for most people is an apartment. Most major cities have plenty of apartments to choose from. They are much cheaper than hotels and other boarding houses and they can give you total privacy, however you cannot always please your eyes with the plain surroundings of an unfurnished apartment. With no decorations, your living space is bound to be boring. After all, you are going to call this
house
your home pretty soon.
Most apartments only have a small area but you can still add some decorative touches to your place to make it look better even if it is still small. First, check your contract or ask your landlord if it's okay to make some changes in your apartment, for example, painting the walls a different color to make the space appear bigger.
Once that mission is accomplished, you can then start
decorating your space
. You can start by simply getting rid of things that you are no longer using. This way, you can provide a larger space inside your apartment thus giving you a clearer idea of what you are going to do with the space you have. If you are not satisfied with how your walls look, you can always paint them with another shade. If that isn't an option, you could instead use wallpaper or hanging picture frames or both, whatever you prefer to do.
Another way you can add interest to the room is by putting light colored curtains in your window to have a nice filter of light into your apartment. If you are the loner type who wants a quiet surrounding, you can always use light colored thermal curtains in your windows to lessen the noise coming from the outside while still having a nice entrance of light into your room.
Be sure to stick to pieces of furniture that won't make your space feel cluttered. Opt for sleek, modern designs. Sofas and chairs should sit low to the ground to make the room feel taller. Multi-functional pieces of furniture, such as storage ottomans, can really help free up space by eliminating the need for extra furniture. Avoid dark rugs or fabrics with small patterns as these can make the room seem even smaller.
If the apartment you rented is a studio and there is no wall separating your bedroom and your dining area, you can always use room dividers which are thin enough and are really designed for small spaces like a small apartment. You can always use dark colored thick curtains as a replacement for room dividers. Using dark colored thick curtains would hinder the sight of the other area behind the curtain in cases that you have visitors in your apartment.
Here are
seven ways
you can decorate your home without over spending or upsetting your landlord.
1. Color Your World.
If your lease allows, paint. Paint is the quickest and least expensive way to dramatically change any room. Consider just painting your focal walls, the wall behind your bed, your sofa wall, fireplace wall and if you have a wall that you look directly at when entering your home, one entry wall can be very dramatic.
If painting is out of the question, there are other quick and easy ways to add temporary color. Purchase a couple large canvases and paint them your favorite color and hang wall-to-wall for a fabulous look. Purchase an inexpensive folding screen and replace the plain fabric with one from your color scheme. Place behind your bed, in the entry, behind your sofa or fill a corner with color.
Colors is important
Credit to Google
2. Pattern Play
Since most apartment walls and floors are a neutral color palette, don't be afraid to add pattern with fabric. Add it to your windows, baths, bedding and pillows. Bring in a variety of patterns and mix and match two or three. Start with a large print, add a plaid, check or stripe and finish with a coordinating small print. Since these are all items you can take along with you to your next home, if you find a fabric that you really love, splurge on it.
Pattern makes a difference
Credit to Google
3. Light Up Your Life
Lighting can make such a big difference in how you feel in your home. In your kitchen, under cabinet lighting is great for both function and accent when the ceiling lights are off. Place small accent lamps inside your bookcase, bakers rack, any open shelving or on your kitchen breakfast bar. If there is not a plug nearby, purchase battery operated lights.
Add picture lighting to your artwork and use can lights to accent your floor plants and light any dark corners to brighten up a room.
Lighting up the days
Credit to Google
4. Wall Works
Besides painting, you can jazz up your rooms with removable wall treatments. Buy inexpensive medium-weight fabric and hang from drapery rods, attach to the walls with small staples or wallpaper your walls with the fabric using liquid starch. When you move out, just peel off and wash the starch off the walls. Just double check to make sure the walls have at least a satin finish, although most will be semi-gloss. Either way, make sure you test this before covering a wall.
Another fun wall treatment is removable wall words and designs. You can have any saying or words printed in any size and color and find a design for every style of home. They rub and peal right on, even with textured walls.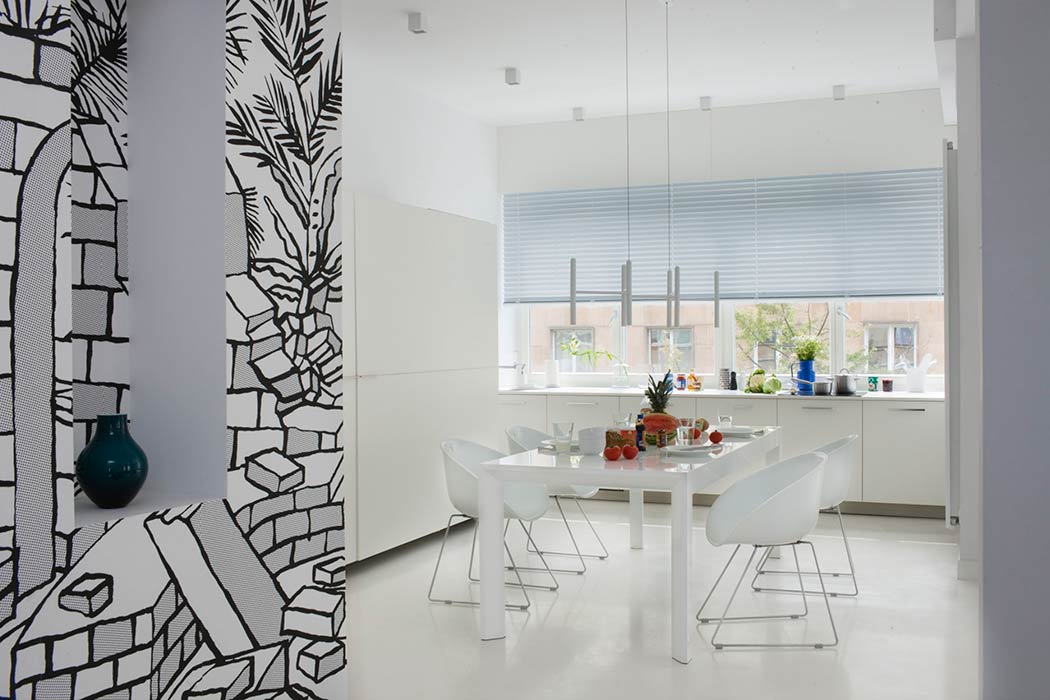 Wall works
Credit to Google

5. Down Under
Hate the carpet? Use room sized area rugs to completely change the look of any room. Purchase a decorative area rug, paint your own floor canvas or have a remnant bound. This will make a tremendous difference in how you feel when you walk into the room.
Area rug
Credit to Google
6. Window Wear
To dress up your vertical blinds purchase ready-made panels or valances to add color and pattern in all your rooms. Window treatments really help finish every room.
You can purchase discount fabrics and make no-sew treatments with seam tape and decorative drapery clips. This treatment is nice for both valances and panels. For a quick, easy and inexpensive cornice box, purchase the foam cornice boxes from a craft store and simply cover with your fabric.
Window wears
Credit to Google
7. Finishing Touches
Accessories are those wonderful items that make a room. Since you can take them with you no matter where you go, buy things that you love and want to keep. To give your rooms that punch or color, think bigger versus more, plus less to pack when you move.
You can achieve a simple but elegant look for your apartment simply by placing the right kind of furniture at the right corner of a room. Leave spaces for easy movement between furniture when arranging the place. Since the living is small, small-scale sofas and chairs are enough as long as you position them in a way that is relaxing for conversations. A small table or drawer would be perfect at the side of the sofa near the entrance.
You may be able to get a smaller scale sofa that won't overwhelm the space. Try to use one ottoman instead of two or fewer side tables and floor lamps to free up the floor plan. Having a platform bed may make a room feel bigger than a regular four poster bed that is important so your space does not feel like an interior design living room.
Achieve the look of color. Even when you do apartment interior decorating you might feel like your house is still white and bare. Select for painted furniture pieces with color so the white walls look intentional such as pottery or hanging colorful plates on the wall.
Apartment interior
Credit to Google
Finally, don't forget to accessorize with items such as lamps, pillows, curtains, and even rugs that can emphasize the theme you have set for your small home. Make sure every accessory matches well with other objects inside the house especially when it comes to color and texture. The accessories you add can also highlight your own personality if you wish to.
If you come to think of it, interior designing a small house or apartment is actually not that difficult. Sure, the limited space may hinder you at some extent but as long as you have the appropriate skills and the right supplies, you can even make it work to your advantage.