DIY Pampering Session + Beauty Product Review
Saturday, December 08, 2012
Last Saturday I woke up with backache and menstrual cramp. I believe you ladies does feel uncomfortable on this particular day of the month just like I do! For me it get a lil rough for me to go through my day, the cramps is always unbearable that pain killer is a must!!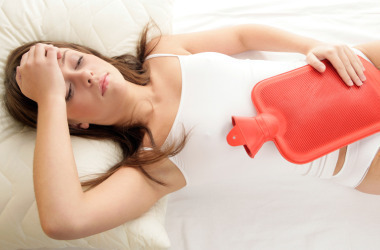 This is exactly what I do on the first day! I take leave and sleep the entire day!
So I try to reduce cold drinks and exercise whenever possible which could help to reduce the cramp.
Okay I admit not entirely no cold drinks or ice-cream, how I could I resist free blow Baskin Robin right?
A week ago at Baskin Robin Finale, YES YES I break the rule!! I don't care I want to eat all the flavors!!
I swim quite frequent lately especially when there is no rain I would definitely rush to the swimming pool to swim!
I enjoyed the calmness when I dip into the pool!
Yesterday cramp was actually bearable and I don't need pain killer. Thanks to all the big stroke across the pool! Why lie on bed since it's a holiday anyway? What a waste right? Make up my mind to not laze on my bed like I used to do every month. No more being a dead fish in my room!
"Brighten up your Day with these few DIY pampering steps!!"
I opened up my Fabulous Find Beauty Box (FFBox) that I won from Jess blog giveaway and decided to used some of the product to pamper myself!
Hand packed in sweet pink colour box!
First I took the mask and put it into the fridge..Yes this is the best way to enjoy the mask to the fullest!
I like the packet design!! It gives a feeling like i will be having spa session in a field of flowers…
1. Shower
While waiting for the mask to chill, I take a hot shower and wash my hair with the Wella Colour Save Shampoo & Mask.
**You can also scrub your body to feel smooth and fair after the shower! and scented scrub (choose your desired scent) helps release strain on your nerve!
Colour Save range is especially suitable for those who dye their hair just like me! As a frequent swimmer this product does help to protect my hair colour from fading off caused by chlorines.
The brown colour remain vibrant after 2 weeks even after multiple swimming session!!
I prefer the shampoo more as compared to the mask..The mask felt diluted and need to squeeze out quite a large amount to coat my entire hair!! Even my TRESemmé conditioner is thicker and can provide better slip than Wella Colour Save mask!
2. Mask
Took out the Calendula Soothing Mask from the America Soothing Pack from the fridge and lay it onto my clean face!
The mask sheet is very thin and subtle. Can you see through my skin through the mask sheet? Thought it is thin but it still did a good job by sticking to my face neatly although the mask size is rather small! The Candelula Flower (same family with Daisy) give a very soothing smell and it give excellent soothing effect on discomfort caused by seasonal climate change in humidity and temperature. It helps to sooth, soften and moisturize my skin.
Leave the mask for about 20minutes. The remove the mask and massage the remaining serum gently into the skin for easy absorption. Don't need to wash it off!!
The mask is actually divided to 2 parts, the Calendula Soothing Mask and the Cotton Moisturizing Emulsion.
Peel off the top portion and squeeze the emulsion and apply evenly onto the face to lock in all moisturizing and protective nourishing agents.
My face after the mask and emulsion application. Look really moist and subtle. It actually brighten my skin tone, but can't see through this picture because I'm using my phone to take this picture!
For me, I only can leave the residual serum and emulsion on my face for about 2 hour before I wash it off. This is me, because I do not like watery feeling on my face during the day. So I suggest to use this mask at night and leave the residual until the next morning for extra moisturizing effect especially if you are sleeping under air conditioned room.
4. Put on Make Up and Dress Casually
Yes when I'm not feeling well I will avoid moving around and doing anything at all! However, dressing up makes me feel pretty and happy!! Take out my comfy Tee and hot pants and put on it!! Dress what ever you feel comfortable with!!
So easy going…Just choose any outfit that you feel comfy!
Right after that, put a layer of foundation or loose powder and then apply earth tones eye shadow and dab my cheek with pink blusher! 2 coat of Empro All Function Mascara in Brown from FFBox to brighten up my eyes!
Earth Tone Eyes with a dash of pink blush on my cheek!
It is very convenient to have 2 colour in one bottle where you can use it day and night. Unfortunately, it turned out not so favourable! The package claimed it is Smudgeproof, Ultra Lengthen & Curl but I find it all the opposite side. It smudge after 2-3 hour of wearing. It does not seems to lengthen nor curl my lash even after I curl my eyes with the curler. The colour wasn't too brownish which I prefer one that provide more brown element.
I still see black lashes instead of brown!!
The brush is straight and kind of big for my small eyes…But if you are looking for a natural lash look then this will be a good choice!!
Big brush! Picture courtesy of lavoguefemme.com
Nevertheless, dressing up and giving my face a little colour perfected my sick day!!
5. Go Outdoor
Have a brisk walk outdoor…Or do it just like me where I bring my lappie out to Starbucks to have a cuppa of warm Toffee Latte while drafting my blog post!
This does really make my day so much happier and did not waste the day lazing on my bed!! At least I spend my day meaningfully right?? It turn from the worst day of the month to best day of the entire month!!
weeee….so happy… So ladies if you feel sick or stress, try any one of the above steps or do all 5 together for max de-stressing and you will definitely feel rejuvenated!!
That all for tonight…Good night people..Tonight I'm going to choose to put on sleeping mask to make myself fall asleep happily!!!