Autumn in Korea: Day 3, Breakfast in Pyeong Resort & Hot Spring
Sunday, August 05, 2012
Well I have been quite busy, so had to stop my Korea post for a while…So here it is, the best day of my whole Korea trip.
Woke up early in the morning with a bright smile..Can't wait for that nice soaking moment inside the hot spring pool…
Before anything else, get packed and head for the breakfast buffet spread…
At Pyeong Resort, the breakfast area is located across the street. My favorite breakfast spread in Korea. The ham and scrambled egg is so tasty. Surprisingly there is cultured milk drink (Vintage) which is quite rare to be served in hotel breakfast.
This resort is well decorated with all Winter Sonata related furniture, pictures and statues. Loves the environment inside the Winter's Sonata breakfast area.
Time for the long awaiting event…HOT SPRING!!! The Peak Island Water Park & Spa, consist of beach pool, sweat chamber, Kid's pool, running water pool, open-air theme pool, slides and sauna.
Click here for more info on the Peak Island
Do remember to bring your swimming suit and swimming cap. OR be prepared to pay for the rental at front desk.
Obviously we only have time for pool with au-naturel spring water with various flavors. Lemon, lavender, peppermint and citrus are some of the available for flavor for that day.
Some of the visitor is walking around bare naked and they also dipped in internal pool naked…So daring…We opt not to be naked, so we only try the outdoor pool (closed air pool and open air pool)…
The running water pool is best for massaging your back.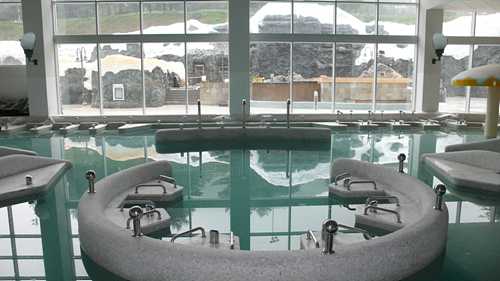 We dare not try the cold pool…Its drizzling cold in autumn.
Open air outdoor pool is the best. Felt so relaxing with the soothing hot water temperature and cold temperature outside the pool. The beautiful mountain view was just right in front of us.
Camera is not allowed so this is the only picture we able to captured…
Next up is visit to the Famous Mountain in South Korea….